A themed book tour through
Prism Book Tours
.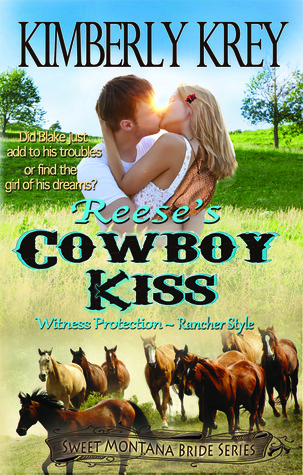 Reese's Cowboy Kiss
(Sweet Montana Bride #1)
by Kimberly Krey
Adult Romance
Paperback, 307 Pages
May 13th 2014 by Candle House Publishing
Texan pageant winner, Reese Taylor, has a former classmate who wants her dead. Now she must leave her friends and family to enter a protection program on Emerson Ranch. A group of good-looking cowboys awaits her, but Reese has her eye on Blake Emerson, the one man too busy with the ranch to give her a chance.
Blake Emerson has no time to go lookin' for love. He's got a ranch to run, positions to fill, and an ache in his heart from love gone wrong. So when he agrees to harbor a witness to help on the ranch, Blake assumes his first two problems are solved. But he never dreamed his new guest would be a woman. One he was destined to lose his heart to.
With sparks burning hot and danger around the bend, one question lingers in his mind: Has he only added to his list of troubles, or has Blake just found the woman of his dreams?
*While this book is considered clean romance, it contains passionate kissing and a few mild curse words.*
Other Books in the Sweet Montana Bride Series:
~ Tips From a Texan Bombshell, Part One~
Reese's Cowboy Kiss Tour and $100 Giveaway with
Dodging An Unwanted Kiss
by Kimberly Krey
"Help! He's moving in for a kiss & it's the last thing I want."
We all know what it's like to go out on a date only to find the chemistry isn't quite what we hoped for. But what if our date has a different view? What if, at the end of the evening, he leans in for a goodnight kiss? In Reese's Cowboy Kiss, Reese, our Texan bombshell, has to deal with this very dilemma when Rowdy, one of the ranch hands, asks her out. Sadly, she's already fallen for the foreman of the ranch, Blake Emerson, so the guy doesn't stand a chance. Here's a quick excerpt on how she dealt with the dreaded 'dis at the door':
Reese sighed, barely catching the look that had settled over Rowdy's face. Oh, no. She was familiar with that look. Had seen it on one too many porch steps.
"Thanks again for the fun evening," she said. "That place had great pizza. And it's been a long time since I've watched wrestling on TV."
Rowdy didn't reply. Only nodded silently as he moved closer. "I'm glad you came with me," he said.
Reese looked down at her shoes. "Well, I'll see ya–"
Her words were interrupted when Rowdy captured her chin in his hand, lifting it to where their eyes met. His gaze dropped to her lips as he moved in for a kiss. At once Reese turned to the side, offering her cheek instead.
Rowdy pulled back and tilted his head, a near-shocked expression on his face.
Reese gave him a coy smile and tapped her cheek.
"Oh," he mumbled. "Goodnight then." His large shoulders dropped a notch while he contemplated. At last he moved in, kissing her half-heartedly on the cheek.
"Goodnight, Rowdy. See ya'll tomorrow."
Excerpt From Reese's Cowboy Kiss, by Kimberly Krey
Observations:
1. Reese tried to evade the entire incident by looking down at her shoes. This is a great way to let a guy know you're not interested – avoiding eye contact. Had Rowdy known how to take the cue, he would've saved himself the embarrassment.
2. She turned her cheek. This might seem obvious, but some women are too timid to do this when a guy has done something so bold as to take hold of her chin. It's a very assumptive move, so be sure to stay firm. If you don't want to kiss him goodnight. Don't. No matter how awkward the moment.
3. When Rowdy acts put off, Reese smiles and taps her cheek, assuring him she'd appreciate the gesture, even if it's not the one he had in mind. It's still an invitation, and better than a handshake by any measure.
4. She's as friendly as she can be. Reese likes this guy after all, and knows she has to see him on a continual basis. Therefore she does her best to make light of the situation with her friendly "See ya'll tomorrow," comment. It's not unusual to get asked out by a co-worker or a friend at school. So do your best to take the sting out of it. We don't want to humiliate them.
Thanks for joining us for this episode of Tips from a Texan Bombshell. I wish you great success with the goodnight gestures in your future. May you avoid doorstep awkwardness with ease and finesse. Find Reese's Cowboy Kiss on Amazon @
http://www.amazon.com/dp/B00KBHHR6C
and be sure to enter the giveaway!
About Kimberly Krey
I'm a writer of contemporary clean romance, a lover of home, family, & friends, & the ultimate hater of laundry.
A few of my favorite things: Diet Coke, Cafe Rio, and novels by Marcia Lynn McClure.
- $100 Amazon Gift Card
- Open Internationally
- Ends August 10th
a Rafflecopter giveaway