A themed book tour through
Prism Book Tours
.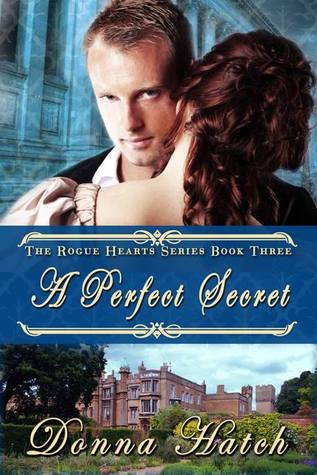 A Perfect Secret
(Rogue Hearts #3)
by Donna Hatch
Adult Historical Romance
Paperback, 348 Pages
December 14 2013
Desperate to protect her father from trial and death, Genevieve breaks off her engagement with Christian Amesbury and marries a blackmailer. After a year of marriage, she flees her husband's violent domination only to have fate bring her back to Christian. Just when she thinks she's started a new life of safety and solitude, her husband tracks her down, stalks her, and threatens everyone she loves.
Still brokenhearted over Genevieve's betrayal a year ago, Christian can't believe she's come back into his life--and worse, that she's done it on the anniversary of his brother's death, a death that haunts him. Though tempted to throw her back into the river where he found her, he can't leave her at the mercy of the terrifying man she married.
When her husband torments Genevieve and puts his family in danger, Christian will do anything to protect those he loves...anything except give Genevieve another chance to break his heart.
About Donna Hatch
My passion for writing began at the tender age of 8 and I've been hooked ever since. Of course, I also wanted to be an actress and a ballerina, but one out of three isn't bad, right?
In between caring for six children, (7 counting my husband), my day job, my free lance editing and copy writing, and my many volunteer positions, I manage to carve out time to indulge in my writing obsession. After all, it IS an obsession. My family is more patient and supportive than I deserve.
1) What is your favorite part about writing?
The rough draft is really fun. It's the honeymoon stage, and as long as I can turn off the internal editor, it's the most euphoric. But editing can be fun too where I really work on turning it into a work of art. It's serious work, but the story really comes to life then.
2) What is your least favorite part about writing?
Marketing is the worst part. It's hard for me to say to people, "Hi, I'm an author. Wanna buy my book?"
3) What inspired you to write?
That's like asking a fish why he swims. I write because I must...because it's some kind of sickness. Or maybe it's just the only way to give an outlet to the voices in my head. It's also a great escape from life...but then, reading does that for me too. Yet, by writing, I can make things turn out the way I want them to, and not be at the mercy of an author. Does that make me a control freak, or just neurotic? But the real reason is this: I can't NOT write, at least, not for very long.
4) Do you have a favorite character in A Perfect Secret?
It's really hard to pick a favorite character in any of my books. Christian feels so real to me because he was in the first two books, so I've known him longer. Genevieve was the new kid to the block, but I really spent a lot of time developing her personality and her backstory so she's become a dear friend to me. Of course, I'm desperately in love with Christian, so I guess I'd have to choose a man I love over a dear friend, right?
5) What advice would you give to beginning authors?
Probably my best advice to aspiring authors is to join a writers group. Writers groups offer all the support and guidance there that can't be found anywhere else. I belong to Romance Writers of America and American Night Writers Association. Both groups offer conferences, classes, workshops, monthly meetings, critiques, and lots and lots of support. Those aren't the only ones. Most parts of the country have writers groups and will let a guest visit once or twice before having to decide if whether or not to join.
Also, be persistent. Most people have dreams of writing a novel, but never finish one. Most people who finish a novel never submit it, and most who submit, give up after a few rejections.
6) What made you decide to write in the Regency England?
Honestly, when I write my first rough draft of a historical romance, I wasn't sure what time period it should take place in. So I did some research into the manners and mores, the clothing and fashions, what was going on politically. I eventually narrowed it down to either the Regency or Victorian Era. But in the end, I chose Regency for two reasons. First, it was a good niche market. A lot of people know what Regency means, especially if I add, the time of Jane Austen. It's sort of an instant "in." Secondly, and probably most importantly, I love the people who lived in that time. The people who lived then were so driven by duty and honor. In Regency England, duty and honor were everything. If a man said he'd do something, especially if he gave his word, he meant it, and others could count him to follow through, even at great personal cost.
I love the way people in Regency England spoke—at least those in the upper classes. They were so eloquent. By the Georgian and Regency Eras, men and women alike were educated and could read, compute complex mathematics, speak multiple languages—French and Latin in particular—and loved philosophical debates. Because many of them were so well read, they used correct grammar and had an impressive vocabulary. Jane Austen carefully chose each word in her novels for its beautiful wording, imagery, and rhythm.
They were also very cultured. From a young age they were taught to dance, play music, sing, and recite poetry. Dancing was especially important since that was pretty much the only way courting was expected to happen. No one went on "dates." They went to balls, soirees, musicales. And everyone was expected to know how to dance.
Another thing I love about the Regency era was how civilized the men were and how manners were so strict in the treatment of ladies. They observed little courtesies like standing up when a lady entered the room, they removed their hats, cleaned up their language, offered an arm to serve as a lady's escort, bowed when they greeted one another, and a hundred other little things I wish men still did today. But they were also very athletic; they hunted, raced, fenced, boxed, rode horses. They were masculine. Strong. Noble. Resolute. Honorable. These fine qualities make them wonderful heroes for Regency historical romance novels.
Thank you Donna for letting me interview you! I always love to see what you have to say. I totally agree with you about the men in the Regency era--I wish men still did many of those things too. I also know how you feel when it comes to writing. I can't NOT write either :) It's what makes me happy, it's what makes me... well, me!
Your books are amazing. You have a definite talent with words!
To see my review of A Perfect Secret, click here.
Tour-Wide Giveaway
- Grand Prize: $20 Amazon gift card and an ebook (INT) or print copy (US Only) of A Perfect Secret OR The Stranger She Married (winner's choice)
- 5 ebooks of A Perfect Secret
- Open Internationally
- Ends July 20th
Follow the Tour: