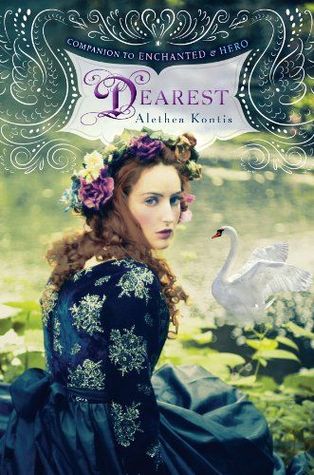 Dearest
(Woodcutter Sisters, #3)
by Alethea Kontis
YA Fantasy
Hardcover & ebook, 320 Pages
February 3rd 2015 by HMH Books for Young Readers
"A fabulous fairy-tale mashup that deserves hordes of avid readers. Absolutely delectable." —
Kirkus Reviews
, starred review of award-winning series debut
Enchanted
Readers met the Woodcutter sisters (named after the days of the week) in
Enchanted
and
Hero
. In this delightful third book, Alethea Kontis weaves together some fine-feathered fairy tales to focus on Friday Woodcutter, the kind and loving seamstress. When Friday stumbles upon seven sleeping brothers in her sister Sunday's palace, she takes one look at Tristan and knows he's her future. But the brothers are cursed to be swans by day. Can Friday's unique magic somehow break the spell?
Guest Post
1) When did you first start writing?
I started writing around the age of eight...probably around the same time I saw Romancing the Stone. I knew I had the potential to be an author at the age of ten, when I had to write a poem for our ALERT program in school—beautiful, eloquent words that came to me in a golden rush of inspiration. As I looked at the paper, the world CLICKED. I still remember that perfect moment, notebook in hand, frozen in time. I had already acted in a TV series by that age, but from that moment on, my friends all knew me as "The Writer."
2) What gave you the idea for this book?
I always start each one of the Woodcutter Sisters books with a "base note" fairy tale (like a base note in perfume). The base note for Dearest was "The Wild Swans" (aka "The Six Swans"). But I can't think of fine-feathered fairy tales without thinking of my personal favorite, "The Goose Girl"...so I had to add that too. From there, the rest just sort of fell into place.
3) What is your favorite thing about writing?
Goodness, I could decorate a Christmas Tree with all of the things I love about writing. Personally, my favorite thing up to now has been listening to Enchanted on audiobook. Maybe it has something to do with my background as an actress...but hearing Katherine Kellgran perform all those characters—characters I invented!--it's like watching the movie of my dreams and realizing it couldn't have happened without me.
4) What's the hardest part about writing?
My gut reaction is to say putting my butt in the chair and slogging away day after day...but honestly? The current state of the NY publishing industry has been the hardest part about writing. That's a long, horrible rant I don't want to get into right now...suffice it to say that 2015 is going to be my experiment in taking NY out of the equation. Fingers crossed!
5) Who are some of your favorite authors?
I will say that if any readers out there love Dearest (or other romantic stories with wings), I highly encourage them to read the Darkangel Trilogy by Meredith Ann Pierce, and the Samaria series by Sharon Shinn. Dearest in particular owes a lot to these books, on many levels.
6) What would be your advice to novice writers?
Put your butt in the chair. Never stop writing. And finish what your start. Just like playing the piano or baking a cake: the more you write, the better you'll be able to communicate those fantastic ideas in your head. There is no such thing as "The Muse" or "Writer's Block." There is just you and the chair and the computer (or pen and paper, or blood and wall). Just put your butt in that chair and never stop writing.
The Other Woodcutter Sisters Books
[caption id="" align="alignleft" width="290"]
Alethea Kontis courtesy of Lumos Studio 2012[/caption]
New York Times bestselling author
Alethea Kontis
is a princess, a fairy godmother, and a geek. She's known for screwing up the alphabet, scolding vampire hunters, and ranting about fairy tales on YouTube.
Her published works include:
The Wonderland Alphabet
(with Janet K. Lee),
Diary of a Mad Scientist Garden Gnome
(with Janet K. Lee), the AlphaOops series (with Bob Kolar), the Woodcutter Sisters fairy tale series, and
The Dark-Hunter Companion
(with Sherrilyn Kenyon). Her short fiction, essays, and poetry have appeared in a myriad of anthologies and magazines.
Her YA fairy tale novel,
Enchanted
, won the Gelett Burgess Children's Book Award in 2012 and the Garden State Teen Book Award i 2015.
Enchanted
was nominated for the Audie Award in 2013, and was selected for World Book Night in 2014. Both
Enchanted
and its sequel,
Hero
, were nominated for the Andre Norton Award.
Born in Burlington, Vermont, Alethea currently lives and writes in Florida, on the Space Coast. She makes the best baklava you've ever tasted and sleeps with a teddy bear named Charlie.
Check out Alethea's Road Tour HERE!

3 Woodcutter Sisters Prize Packs (signed copies of Enchanted, Hero, & Dearest - US Only)
Ends March 8th



Follow the February Tour!


1 - Launch
2 - Lilac Reviews
3 - Special post @ Waterworld Mermaids
3 - Coffee Books & Art & The Book Lovers' Lounge
4 - Special post @ USA Today's Happy Ever After
4 - Buried Under Books, Mommabears Book Blog, & Rabid Reads
5 - Interview @ J.T. Elison
5 - Gidget Girls Reading
6 - Zerina Blossom & Geo Librarian
8 - Welcome to Book City
9 - Kelly P's Blog & Katy's Krazy Books
10 - Mel's Shelves & Jan Edwards
11 - Katie's Clean Book Collection
12 - A Backwards Story & Wishful Endings
13 - Library of a Book Witch & The Quotable
14 - Biggest Literary Crushes post on @ Dear Teen Me
15 - The Written Adventure
16 - My Life Loves and Passion & Colorimetry
17 - I Am A Reader & The Library of the Seen
18 - Special post on @ Dear Teen Me
18 - Printcess & Living a Goddess Life & Melissa's Eclectic Bookshelf
19 - 100 Pages A Day & mrsjennyreads
20 - Books and Ashes & Addicted Readers
22 - Miss Little Book Addict YA House of Books
23 - SBM Book Obsession
24 - Deal Sharing Aunt
25 - Min Reads and Reviews
26 - Pieces of Whimsy & Wonderous Reviews
27 - The Scribbling Sprite
28 - Grand Finale